NEW DELHI: The Indian smartphone market witnessed a year-over-year decline of 12% in Q3,2021, according to research firm IDC. The market registered 48 million shipments after four consecutive quarters of growth. The report adds that Xiaomi registered a decline in shipments, but captured maximum market share.
"IDC believes that a growing dependency on smartphones triggered by remote work and learning, as well as a subsequent requirement for better quality hardware is pushing consumers to spend more. With continued chip shortages and logistics costs, brands are also compelled to expand upwards in terms of price points across channels," says Upasana Joshi, Research Manager, Client Devices, IDC India.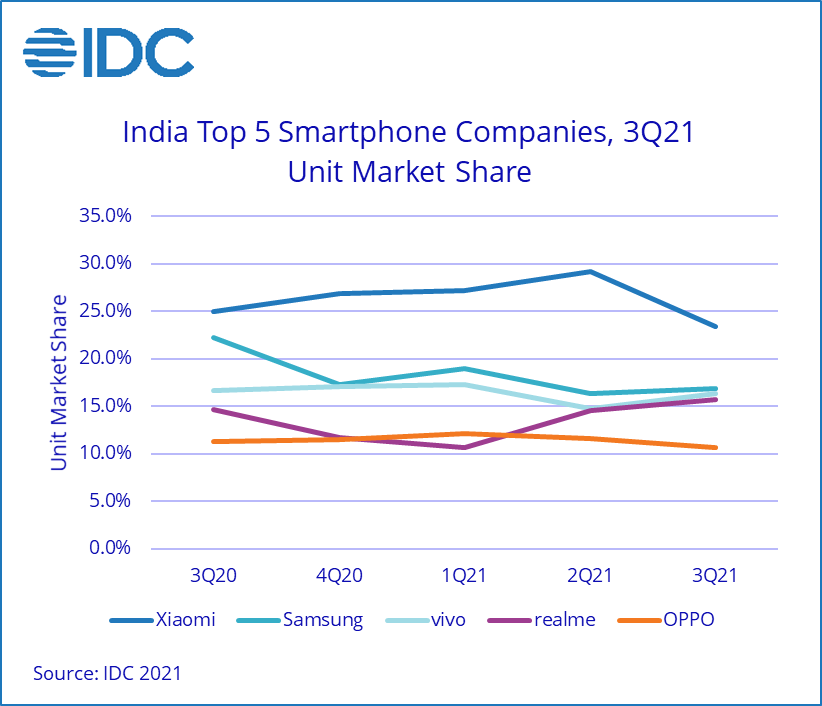 Top five smartphone makers
Xiaomi captured first spot in the list despite a 17% year-over-year decline. 72% of Xiaomi's shipments were concentrated in the online channel, with its market share there dropping to 32%. The Redmi 9A/9 Power/9/Notes 10s were the major volume drivers along with the Poco M3 and Poco C3. Samsung stands at the second slot and registered the highest YoY decline amongst the top 5 vendors at -33% in 3Q21. With a key focus on the Galaxy M and F series, 49% of its shipments were sold online, allowing the vendor to take 16% of all online shipments. However, offline models like the Galaxy A22/A12 accounted for 23% of the vendor's overall shipments.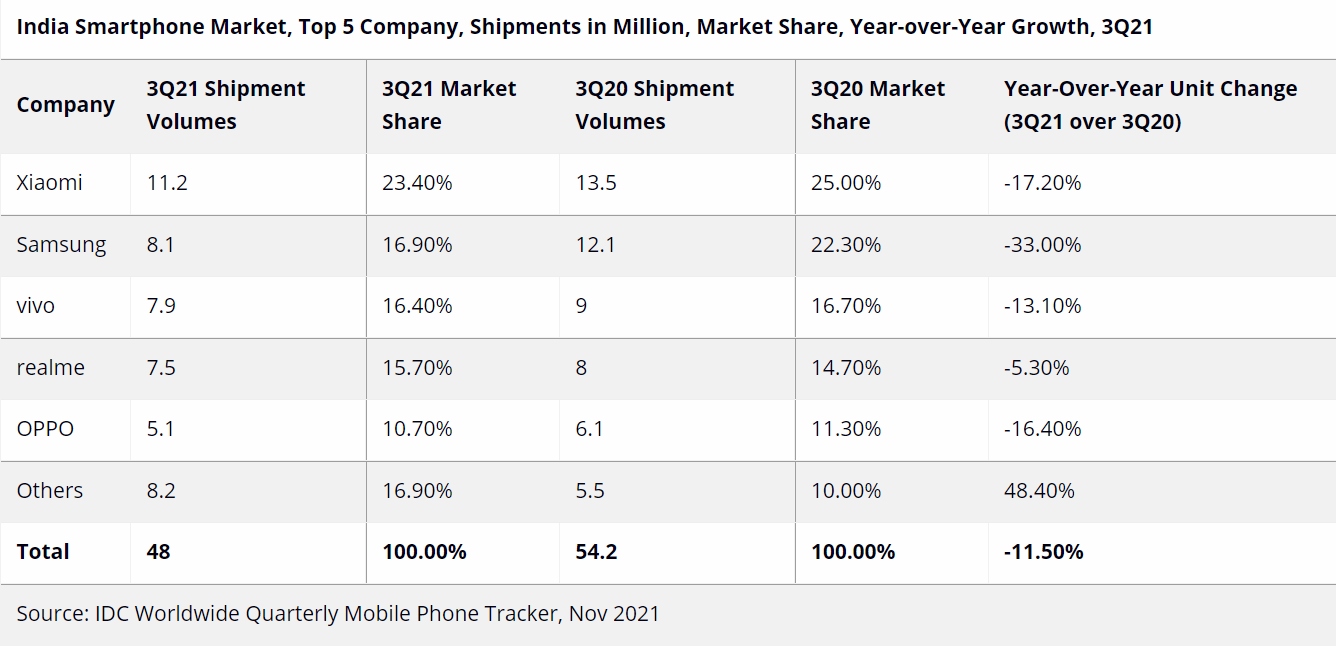 Vivo and Realme stand at third and fourth positions respectively. Vivo witnessed a shipment decline of 13% YoY. It continued to cement its offline presence with a share of 30% of that segment. On the other hand, Realme saw a 5% decline. In the online space, it continued to be at second slot ahead of Samsung with a high 22% share. However, within the 5G segment, it slipped to the third slot. The C11 (2021) and Realme 8 (which includes both the 4G/5G models) were the highest shipped devices.
The fifth position in the list is occupied by Oppo with a 16% decline. Oppo rose to the second slot with an 18% share, driven by high shipments for the Reno 6 series. Also, it slipped to the third slot in the offline channel with a 17% share there.
The report also adds that India was the third-largest 5G smartphone market globally with 7% of worldwide 5G shipments, shipping 10 million units at an ASP of US$401 in 3Q21.
For Latest Updates Follow us on Google News
**If you have any Query Related This Post then here is the Source Link**