Good morning, and welcome to our rolling coverage of the world economy, the financial markets, the eurozone and business.
The surge in risky asset prices this year has made them increasingly susceptible to a tumble if economic growth takes a turn for the worse, the pandemic escalates, or investors lose confidence.
That's the message from the US Federal Reserve, which is also concerned about the rise of stablecoins which underpin the cryptocurrency market.
In its latest financial stability report, the Fed flagged that prices of risky assets have generally risen further since its previous report six months ago.
Despite concerns about the spread of the Delta variant of the virus that causes COVID-19, asset prices have been supported by increased earnings expectations and low Treasury yields, it says.
In a warning to the markets, they say:



Prices of risky assets generally increased since the previous report, and, in some markets, prices are high compared with expected cash flows. House prices have increased rapidly since May, continuing to outstrip increases in rent. Nevertheless, despite rising housing valuations, little evidence exists of deteriorating credit standards or highly leveraged investment activity in the housing market.

Asset prices remain vulnerable to significant declines should investor risk sentiment deteriorate, progress on containing the virus disappoint, or the economic recovery stall.
But are investors heeding the message?
Last night, the US stock market closed at a fresh record high, extending its pandemic rally, as investors continue to shrug off concerns about rising inflation, supply chain problems, and the ongoing pandemic.
And bitcoin has struck a new record high this morning — hitting $68,550 for the first time, as crypto assets continue to surge.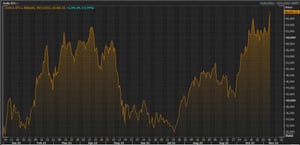 Critics would point out that the Fed's own policies have helped drive the rally in risky assets.
Since early in the pandemic it has kept interest rates at record lows and pumped $120bn per month into the system through its bond-buying stimulus programme, which it is just starting to wind down.
The Fed's financial stability report shows concerns over the rise of stablecoins – cryptocurrencies [such as tether] that try to peg their market value to some external reference, such as the US dollar.
The Fed points out that the sector has grown fast, and warns that 'some stablecoins are vulnerable'
Policymakers are concerned about the consequences if a stablecoin can't hold its value.



The value of stablecoins outstanding has grown about fivefold over the past 12 months and stood at around $130 billion as of October 2021

Certain stablecoins, including the largest ones, promise to be redeemable at any time at a stable value in U.S. dollars but are, in part, backed by assets that may lose value or become illiquid. If the assets backing a stablecoin fall in value, the issuer may not be able to meet redemptions at the promised stable value.
Also coming up today:
Rolls-Royce is moving ahead with a multibillion pound plan to roll out a new breed of mini nuclear reactors after securing more than £450m from the government and investors.
The engineering firm will set up a venture focused on developing small modular nuclear reactors, or SMRs, in partnership with investors BNF Resources and the US generator Exelon Generation with a joint investment of £195m to fund the plans over the next three years.
On the data front, the latest survey of US producer prices will show whether inflationary pressures are still building in America's economy.
The ZEW survey of economic confidence will show if German investor confidence has improved, after falling for the last four months.
Central bankers will be busy; the Bank of Canada, Bank of England, Board of Governors of the Federal Reserve System, and European Central Bank are holding a conference on Diversity and Inclusion in Economics, Finance, and Central Banking.
The agenda
7am GMT: German trade data for September
10am GMT: ZEW index of German economic sentiment
1pm GMT: ECB president Christine Lagarde speaks at the 4th ECB Forum on Banking Supervision Forum: "Tomorrow's banking: navigating change"
1.30pm GMT: US PPI index of producer prices released
2pm GMT: Fed chair Jerome H. Powell gives opening remarks at the Conference on Diversity and Inclusion in Economics, Finance and Central Banking
3.30pm: Bank of England deputy governor Ben Broadbent gives evidence to the EFRA Committee: Labour shortages in the food and farming sector
4pm GMT: Bank of England governor Andrew Bailey on a panel on "Central Banks and Inequality", at the conference on Diversity and Inclusion in Economics, Finance and Central Banking
Denial of responsibility!
-
If you are a regular visitor then ignore this...
Read Full Details
For Latest Updates Follow us on Google News
**If you have any Query Related This Post then here is the Source Link**