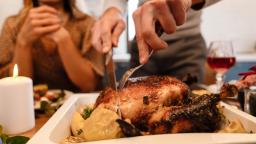 There's the turkey/drowsiness myth: Eating lots of juicy turkey meat supposedly makes people feel tired because it contains an amino acid called tryptophan. This molecule travels into the brain, where it's converted into a neurotransmitter called serotonin, which in turn is converted into a hormone called melatonin. Voila! Sleepiness.
But science
and
the internet
agree: It's not the turkey's tryptophan to blame for your post-feast nap. All protein sources, and even vegetables, contain some tryptophan; turkey isn't at all special in this regard.
This tryptophan/mood connection is an area of ongoing research. And while some are captivated by tryptophan's potential, it's not clear whether the excitement is warranted.
Looking for a tryptophan link to mood
There is some scientific evidence that eating tryptophan can alter your mood.
So what explains the mixed results?
Serotonin itself still holds mysteries
This non-specificity is why, in my mind, it's hard to believe that SSRIs work at all. Here's an analogy: Say you're Jeff Bezos and you want to increase Amazon's revenue by speeding up your deliveries. So you decide to crank up the speed on all delivery vehicles. From now on, every truck will boost its speed by 5%. It may be a stroke of logistical genius, or it may, perhaps more likely, end up in chaos. Like ramping up serotonin all over the brain, this blunt approach might not be ideal.
More chemical fine-tuning for mood
When it comes to understanding connections between gut bacteria and the brain, or the bigger challenge of understanding and treating mental illness, should researchers really still be thinking about tryptophan?
Serotonin, seemingly full of psychiatric possibility, has long fascinated psychiatric researchers. But what the past half century seems to have demonstrated is that the neuroscience of human emotion is not simple. To promote lasting changes in mental health, scientists may need a little more reverence for the complex emotional beings that we all are.
So no, a big turkey dinner, as filled with delicious tryptophans as it might be, will likely not be the neurochemical driver for your mood on Thanksgiving.
Andrew Neff is an adjunct faculty member in psychology at Rochester University in New York. Neff does not work for, consult, own shares in or receive funding from any company or organization that would benefit from this article, and has disclosed no relevant affiliations beyond their academic appointment.
For Latest Updates Follow us on Google News
**If you have any Query Related This Post then here is the Source Link**