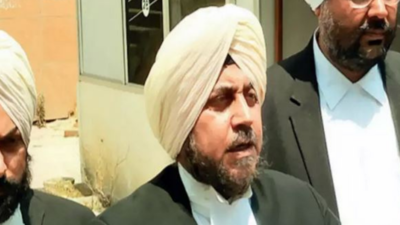 Punjab AF APS Deol (File photo)
CHANDIGARH: Punjab advocate general APS Deol issued a statement on Saturday accusing Punjab Pradesh Congress Committee chief Navjot Singh Sidhu of "obstructing the functioning of the AG's office" and spreading "misinformation" for "political advantage".
His statement came a day after Sidhu's remarks over the selection of Deol as advocate general. The development is unprecedented as it is the first time that an AG has made such a statement against the state chief of the governing party.
On Friday, Sidhu had announced while withdrawing his resignation that he would not resume charge until a new AG takes over and a new panel (with the name of the new DGP) is cleared. Sidhu had resigned on September 28, objecting to the Channi government's appointment of Deol as AG and Iqbal Singh Sahota as DGP.
"His (Sidhu's) repeated utterances seek to derail the earnest efforts of the state government to ensure justice in the 'drug matter' and the 'sacrilege cases.' There is a concerted attempt by vested interests to malign the functioning of Congress in view of coming polls in Punjab for their selfish political gain by politicising the constitutional office of AG Punjab (sic)," Deol said in a statement.
Deol's appointment had triggered a debate as he had represented ex-Punjab DGP Sumedh Singh Saini, who faces charges in the Behbal Kalan firing incident related to Punjab's sacrilege cases.
FacebookTwitterLinkedinEMail
**If you have any Query Related This Post then here is the Source Link**