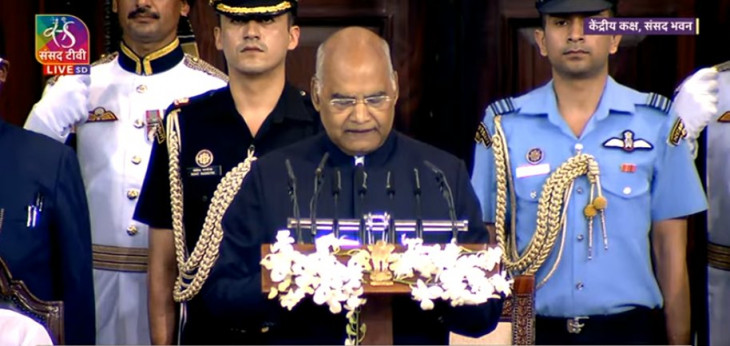 Digital Desk, New Delhi. Today was the farewell ceremony of the current President of the country, Ram Nath Kovind. The ceremony was held in the Central Hall of Parliament. Where President Ram Nath Kovind addressed the people present there. In his address, President Kovind said that five years ago, I took oath as the President of India at the Central Hall here. I have a special place in my heart for all MPs. Prime Minister Narendra Modi, Lok Sabha Speaker Om Birla, Vice President Venkaiah Naidu as well as all the MPs of both the houses were also present in the farewell ceremony of President Ram Nath Kovind. During this, Lok Sabha Speaker Om Birla also gave a farewell speech for President Ram Nath Kovind.
— President of India (@rashtrapatibhvn) July 23, 2022
Kovind said this in the farewell ceremony
President Ram Nath Kovind said in the farewell ceremony that the new India of Ambedkar's dreams is being built. People are getting pucca houses and water. Swachh Bharat Abhiyan is very important. Countrymen are getting their dream flight. Political parties should work beyond party politics. He said that many old memories are cropping up on this day. The President said that the Parliamentarian and the President are co-travellers of the same development journey. Our Constitution, adopted by the people of India, has been authorized. I see the President as an integral part of the Parliamentary family.
Kovind said that we are all members of the family of Parliament, in which there can be differences. When the whole country is viewed as one huge joint family, there can be many ways to resolve differences. There can be many ways to protest, but better if done in Gandhian way. President Ram Nath Kovind also praised the work of the government during this period.
Newly elected President Draupadi Murmu will take oath on this day
Draupadi Murmu, the newly elected President of India, will take the oath of office on July 25. She will take oath as the country's 15th and first tribal woman president. The swearing-in program will start at 10.14 am on Sunday. Elaborate arrangements have been made for the swearing-in of India's first tribal woman President. On Thursday, NDA candidate Draupadi Murmu had won by defeating opposition candidate Yashwant Sinha by a huge margin. Draupadi Murmu has created history by becoming the first woman tribal president of India.




Source: www.bhaskarhindi.com