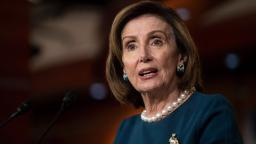 That is not, in any way, a partisan statement. It is purely a reflection of Pelosi's ability to shepherd major pieces of Democratic presidents' agenda through a closely divided House, with a knowledge of her caucus — and the buttons that need to be pushed at the exact right time — that no one who has come before her in the job has been able to match.
"Is Nancy Pelosi the most effective Speaker of all-time? (whether you like her agenda or not)," asked Bruce Mehlman, a Republican lobbyist,
in a tweet
with a screengrab of the final 228-206 winning vote for Pelosi on the so-called "hard" infrastructure package.
Consider the challenge Pelosi faced with this infrastructure bill — starting with the fact that she had only a three-seat majority, meaning that even a handful of renegade Democrats could scuttle the entire thing. Then add in the total lack of trust not only between House liberals and Senate moderates but also the decided lack of trust between House liberals and House moderates. And sprinkle it the fact that the entire bill had been at an impasse for months as both sides of the party wrangled for leverage on the broader $1.75 trillion social safety net legislation.
That was a decidedly toxic brew — even for a persuader and vote-counter as gifted as Pelosi — marked by the fact that she twice was unable to meet self-imposed deadlines for getting the infrastructure bill passed.
So, how did she pick the lock on this trickiest of votes? By stepping back.
As the Times wrote: "In effect, the speaker had harnessed one faction of her unruly Democrats to win over two others, and she understood that the soft-spoken African American lawmaker might have had more influence at that point than she did."
And it seems to lay the groundwork for the House to pass the $1.75 trillion spending bill when the chamber returns later this month.
While the social safety net bill would — even if passed by the House — be headed for a major overhaul by moderate forces in the Senate, simply getting such a massive piece of legislation through a House this divided (and with such a tiny Democratic majority) would amount to yet another remarkable accomplishment by Pelosi.
If the social safety net bill managed to become law, Pelosi will have helped Biden fundamentally remake the relationship between government and the average person — pouring almost $5 trillion in federal spending into the economy over the next 10 years and addressing everything from roads and bridges to climate change and immigration.
That's just what Pelosi has done during the Biden presidency to date. It's to say nothing of her work to pass the Affordable Care Act under President Barack Obama, the largest overhaul of the country's health care system in decades — and one that has withstood a series of legal challenges over its now-decade-plus of existence. She also can claim Dodd-Frank financial reform, repeal of "Don't Ask, Don't Tell" and the American Recovery and Reinvestment Act under her time as speaker.
There is simply no other speaker who can rival that list of major policy accomplishments. And what Pelosi has done is made all the more remarkable by the fact that she has done so with decidedly narrow majorities which leave her almost no wiggle room in complex, multi-layered negotiations between warring factions within the party.
It's a remarkable legacy that, whether you like or hate Pelosi and her politics, you have to marvel at. There has simply never been someone better at the job of speaker than Nancy Pelosi.
For Latest Updates Follow us on Google News
**If you have any Query Related This Post then here is the Source Link**