Introduction: Bank of England interest rate decision looms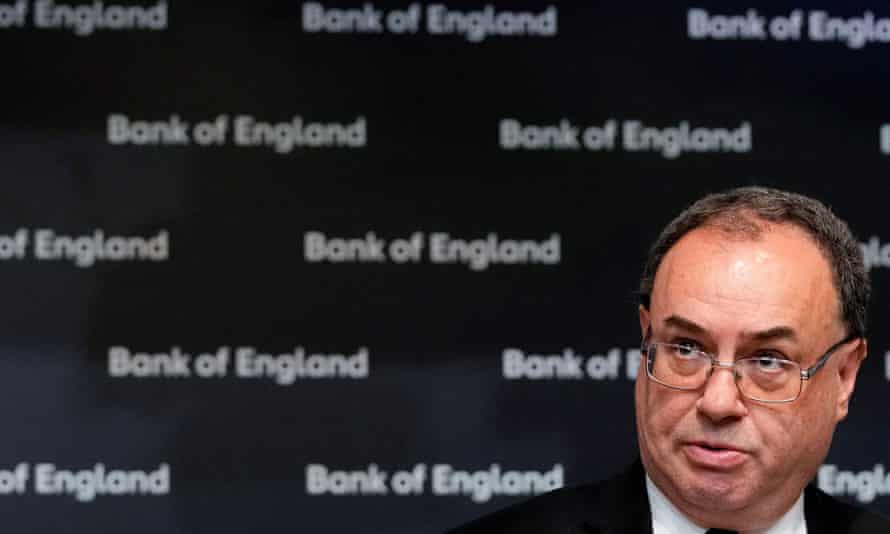 Good morning, and welcome to our rolling coverage of business, the financial markets and the world economy.
Over to you, governor. After America's central bank announced its largest interest rate rise since 1994, the Bank of England must now decide whether, and how fast, to lift UK borrowing costs.
Governor Andrew Bailey and colleagues on the Bank's Monetary Policy Committee faced a difficult decision at this week's meeting, with the economy slowing sharply and inflation heading towards double-digit levels.
The MPC are very likely to lift Bank Rate, currently 1%, at noon today – and some economists believe we could get the first 50 basis point increase since 1995, which would take rates to 1.5%.
Conall MacCoille, chief economist at wealth managers Davy, believes there are compelling reasons for the BoE to raise interest rates by as much as 50bps.
"CPI inflation at 9% and a tight labour market are creating a risk that employee price expectations could become entrenched."
Furthermore, MacCoille points out that some Bank policymakers wanted a larger rise last month.
"The MPC's vote was split 6-3 in May, with the minority favouring a 50bps rise in interest rates".
James Lynch, fixed income manager at Aegon Asset Management, reckons the committee could split into three camps, making a smaller 25bp rise more likely.
The dovish view can be emboldened by the slowdown in GDP growth, the hawkish camp encouraged by the labour market strength/higher wages and ever rising inflation and finally, the more neutral members who are finding it all a bit confusing.

Therefore, there is a strong possibility of a split vote this week – some members vote for no rise, some for 25bps and some for 50bps.
The Bank has already raised interest rates at four meetings in a row. This month, it could also be concerned about the weak pound, which has hit its lowest level against the US dollar since early in the pandemic.
Surging inflation means UK real wages shrank at the fastest rate in at least 20 years in April, squeezing households.
And there is more pain ahead, with a grocery industry research group warning that food price inflation in Britain is likely to peak at up to 15% this summer and will remain high until 2023.
Red-hot inflation is forcing central bankers to become more hawkish, with the US Federal Reserve hiking its key rate by 75 basis points last night.

It blamed higher energy prices following the Ukraine war, supply chain disruption from the pandemic, and 'broader price pressures', as last week's unexpected surge in US inflation forced the Fed to move more aggressively.
It said:
The invasion of Ukraine by Russia is causing tremendous human and economic hardship.

The invasion and related events are creating additional upward pressure on inflation and are weighing on global economic activity. In addition, COVID-related lockdowns in China are likely to exacerbate supply chain disruptions. The Committee is highly attentive to inflation risks.
Fed chair Jerome Powell signalled that a similar hefty rise was possible in July unless inflationary pressures soften, telling reporters:
"We at the Fed understand the hardship inflation is causing.

Inflation can't go down until it flattens out. That's what we're looking to see."
The Bank of England would love to see that too.
The agenda
7am BST: European new car registrations
8.30am BST: Swiss National Bank's interest rate decision
9.30am BST: Latest economic and business activity data from the Office for National Statistics
12pm BST: Bank of England interest rate decision
1.30pm BST: US weekly jobless figures
1.30pm BST: US building permits and housing starts
5pm BST: Russia's Q1 GDP report
Denial of responsibility!
-
If you are a regular visitor then ignore this...
Read Full Details
"If you have any Query Related This Post then here is the Source Link"