NEW DELHI: The Army and IAF on Monday kicked off a major "airborne insertion and combat" exercise along the frontier with China in eastern
Ladakh
, which will see paratroopers practice capturing territory "behind enemy lines" and then "link up" with their advancing tanks while attack helicopters destroy hostile mechanized forces.
The three-day exercise, with hundreds of pre-acclimatized troops and heavy weapon systems at an altitude of over 14,000-feet and minus 20 degree Celsius temperatures, is meant to convey yet another "clear message" to China after the Agni-V missile test last week to "desist from any misadventures along the northern borders", said sources.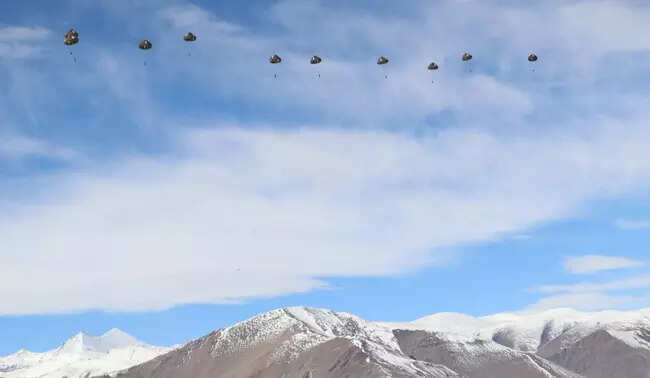 The combat manoeuvres come amid the continuing deadlock in the 18-month-long military confrontation in eastern Ladakh, with China refusing to even complete the stalled troop disengagement at Patrolling Point-15 in the Hot Springs-Gogra-Kongka La area in the 13th round of corps commander-level talks on October 10.
With any de-escalation in the much more intractable face-offs at Charding Ninglung Nallah (CNN) track junction at Demchok and the strategically-located Depsang Plains also not on the horizon, India and China are set to keep their 50,000 troops each along with tanks, howitzers and surface-to-air missile systems forward deployed for the second consecutive winter in the harsh high-altitude area.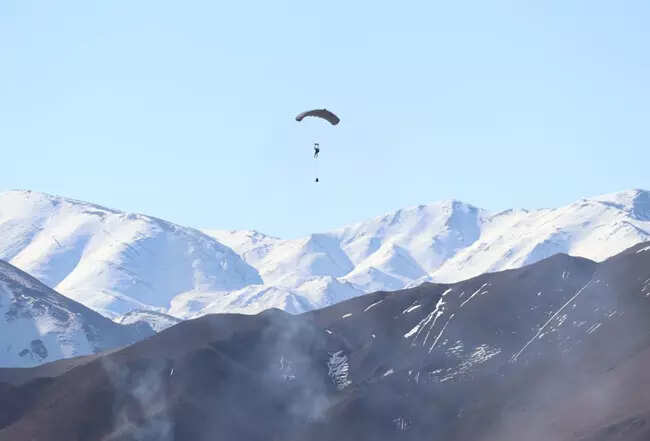 "If they (People's Liberation Army) are there to stay, we are there to stay too," Army chief General M M Naravane had recently said. The PLA has also been flexing its muscles, with stepped-up patrolling along the 3,488-km LAC stretching from eastern Ladakh to Arunachal Pradesh as well as conducting integrated joint operations exercises in the Tibetan Autonomous Region.
The Indian exercise began on Monday with over 200 Para-Special Forces soldiers from the Agra-based Shatrujeet Brigade, along with specialist vehicles, missile detachments and other heavy loads, being inserted into the "drop zone" in eastern Ladakh by C-130J Super Hercules and AN-32 aircraft from five different "mounting bases" in the country.
"The aim was to validate rapid response capabilities, inter-theatre move, precision stand-off drops, rapid grouping and capture of designated objectives with speed and surprise. The air-drop was particularly challenging due to the sub-zero temperatures and rarefied atmosphere in the super high-altitude terrain," said a source.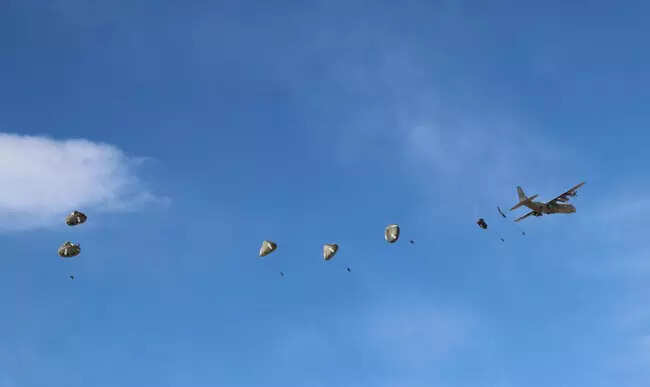 Over the next two days, the paratroopers will "hold" the captured territory in the simulated exercise, while enemy tanks are neutralized by attack helicopters like the newly-inducted Apaches. "Friendly" main-battle tanks and infantry combat vehicles, in turn, will move forward to link up with the paratroopers holding ground to complete the combat manoeuvres.
"The exercise involves conduct of oxygenated combat free-fall jumps and integrated battle drills by airborne forces, mechanised columns and attack helicopters with seamless integration," said the source.
India has forward deployed a wide array of weapon systems — ranging from the Bofors, M-777 and K-9 Vajra artillery guns to T-90S and T-72 main-battle tanks, Smerch and Pinaka multiple-launch rocket systems, and BrahMos supersonic cruise missiles — along the LAC since the confrontation erupted in April-May last year.
Similarly, the IAF too has deployed Sukhoi-30MKI, Mirage-2000, MiG-29 and Jaguar fighters as well Apache attack and Chinook heavy-lift helicopters in Ladakh and elsewhere along the LAC.
Though India lags behind China in development of border infrastructure and last-mile troop connectivity, the construction of additional roads, ammunition shelters, bridges and tunnels in forward areas has also been a top priority area for the Border Roads Organization during the crisis.
Denial of responsibility!
-
If you are a regular visitor then ignore this...
Read Full Details
**If you have any Query Related This Post then here is the Source Link**