Dhanteras marks the beginning of the five day long festival of Diwali. The day is considered extremely auspicious for starting new things, especially business ventures and monetary deals. People consider it auspicious to buy any ornaments of gold, silver or simply, steel utensils to mark the auspiciousness of the day. Goddess Lakshmi, who is considered to be the Goddess of wealth, is worshipped primarily on this day along with the God of treasures, Kuber and is supplicated for bringing in wealth and prosperity to households. In the Hindu culture, the broom is considered to be a symbol of Goddess Lakshmi. Buying a broom to symbolically wipe out negative energy and bring health, wealth and prosperity is also a ritual that some people adhere to.
Hindu mythology states that on this day, the churning of the ocean or samudra manthan took place, and to celebrate the arrival of Dhanvantri- the physician of the Gods from Samudra Manthan on the thirteenth lunar day of the month of Kartik, Dhanteras is celebrated. It is also an intriguing observation that the Ministry of Ayush celebrates the day of Dhanteras as National Ayurveda Day for it is believed that on this day the world became aware of this science which was bestowed upon all of us by Lord Dhanvatri. However, in addition to wealth and prosperity, people also seek good health and a long life for themselves and their loved ones. Prayers to the God of Death, Yamaraj are supplications for protection from untimely, premature death and disasters, and seeking a long, healthy life. The festival of Diwali is thus associated with all aspects of a good life- health, wealth, prosperity and happiness. To wish your nearest and dearest ones on this auspicious day, we bring to you greetings, images, messages, quotes, cards and GIFs which will convey your best wishes.
Wishes and Messages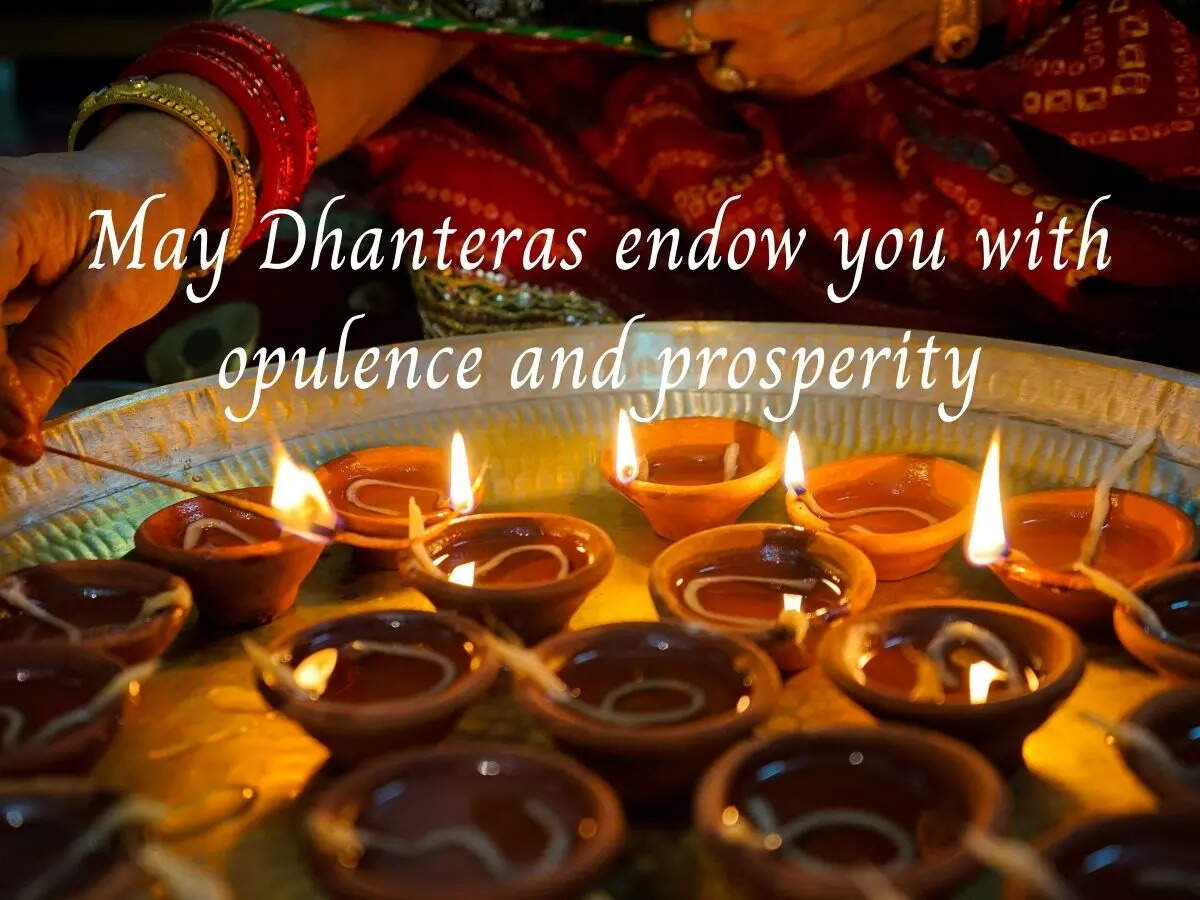 · On the auspicious occasion of Dhanteras, I wish that you shine like gold and silver. Wishing you and your family the best greetings of this day!
· May God Dhanvantri shower his choicest blessings on you on this beautiful day and fill your life not just with material wealth but with happiness, luck, love and light!
· Clean your homes, and your lives. Light up diyas and candles and also your minds. Decorate everything including your heart for the arrival of Goddess Lakshmi on this auspicious day! Wishing you and your family a very happy Dhanteras!
· May Goddess Laxmi shower her immense blessings on you and your family on the occasion of Dhanteras this year. May the festival of lights shine bright from a distance and add love and prosperity to your life. Wishing you a very Happy Dhanteras!
· May the wishes that I send your way keep glowing like the Sun and never flicker like the lights of candles or diyas. Wishing you eternal happiness and light in your life. Choicest Dhanteras wishes to you and your family from me and mine!

Quotes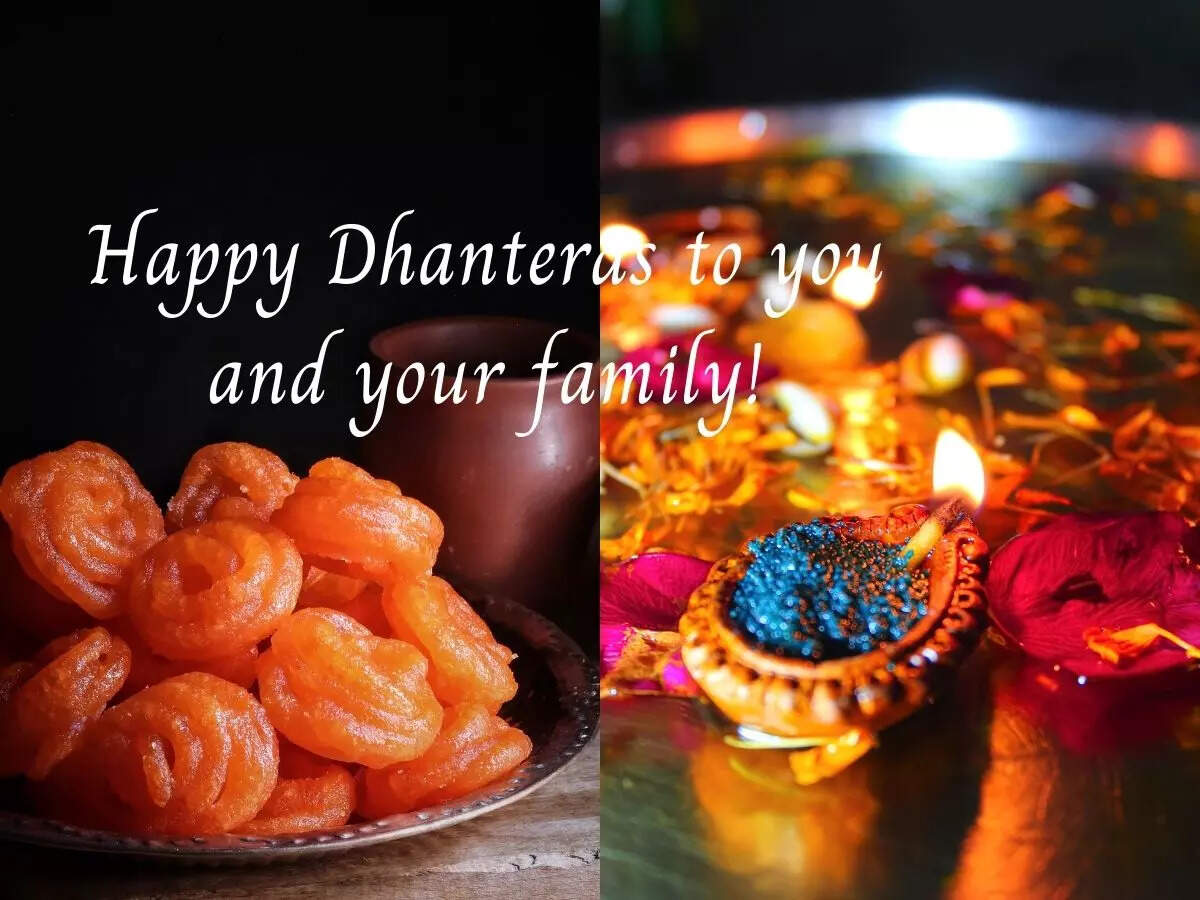 · May Dhanteras endow you with opulence and prosperity. Best wishes of the day to you and your family!
· Let us gear up with enthusiasm and a jovial spirit to celebrate this occasion of Dhanteras and welcome the season of festivity and fun! Happy Dhanteras!
· Wealth and riches from Goddess Lakshmi, treasures of gold and silver from Kuber, the priceless gift of health from Dhanvantri and a long life from Yamaraj. May this Diwali endow you with everything that makes life beautiful and worth living.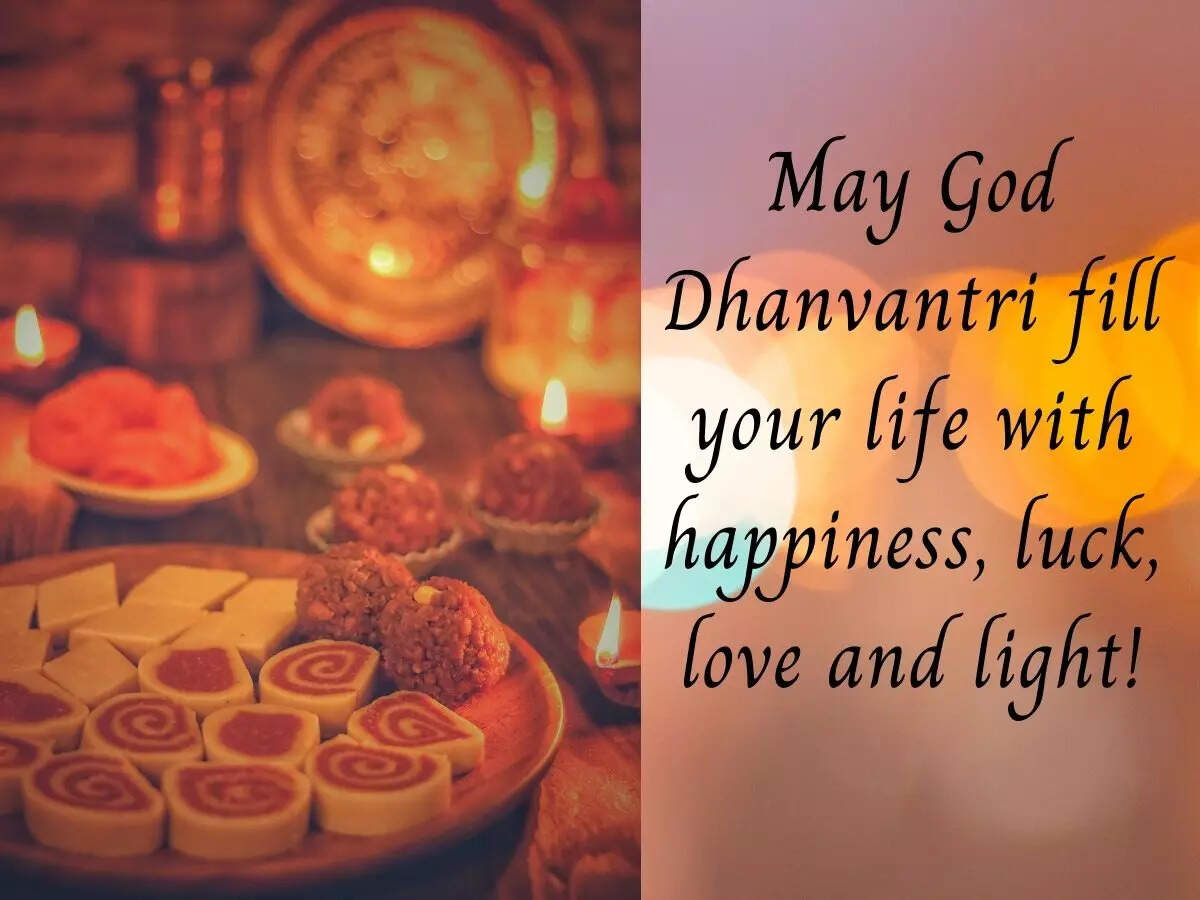 · Overcome all odds, win all challenges, endure all hardships and come out shining like gold! May this Dhanteras Goddess Lakshmi and Lord Ganesh bless you and beyond. Have a happy festive season!
· Shimmer like silver, shine like Gold, dazzle like Platinum and glow like candle light. Drive away all evil this Dhanteras. May the divine sight of Goddess Lakshmi always be on you and drive away all evil. May you be bestowed upon with bountiful fortune and choicest blessings of the Goddess and Lord! Happy Dhanteras to you and your family!
· Abundance and Prosperity your way, blessings and beautiful surprises your way, and the glow of health and longevity your way! Happy Dhanteras to you and your family!
GIFs

(All pics: Canva; All GIFs: Giphy.com)
Denial of responsibility!
-
If you are a regular visitor then ignore this...
Read Full Details
**If you have any Query Related This Post then here is the Source Link**