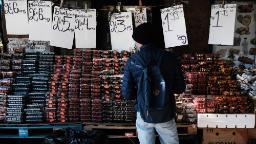 This week, on CNN's "New Day", Republican Sen. Rick Scott suggested the infrastructure bill
passed
Friday was an example of what he said is the kind of wasteful government spending that has led to the increase in prices.
Voters, Scott said, express concerns when they see legislation, like the infrastructure bill, "that has unbelievable wasteful spending" pass, despite the fact that "We've got gas prices up over 50%, food prices up, all caused by wasteful government spending."
When asked to clarify his remarks, Scott's office sent CNN a
press release
doubling down on the senator's claims that "reckless spending" under the Biden administration has fueled this "inflation crisis."
Facts First: To blame rising gas and food prices exclusively on government spending is false. Supply chains are in disarray, not just in the US. The global production of oil and many other goods decreased last year when demand cratered as a result of the pandemic. But while demand has since increased, production remains below pre-pandemic levels, leading to higher prices.
Food Prices
One big indication that US government spending is not solely to blame for the spike in prices? The cost of food is up everywhere, not just in the US.
Gas Prices
Higher gasoline prices are also the result of a similar pandemic-induced supply chain mess. While demand has come roaring back, production is still catching up to pre-pandemic levels.
Regarding the higher gas prices in particular, Patrick De Haan, head of petroleum analysis at GasBuddy, a website that tracks the price of gas, told CNN on Oct. 20, "I chalk up the high price of energy today to circumstances that no president could have brought on. The bulk of the change has everything to do with Covid."
The Biden administration has already called on OPEC and its allies to do more to combat the elevated energy prices but so far they have declined to dramatically ramp up production.
Mark Zandi, chief economist of Moody's Analytics, told CNN gas prices are high in part because the energy industry is still operating below pre-pandemic levels, though they have the capacity to produce more oil and natural gas.
"The issue is that energy producers have been slow to increase their use of that capacity as demand coming out of the pandemic has picked up," Zandi said.
Asked about Scott's comments on CNN Monday, Zandi said, "Scott has misdiagnosed the reasons for the higher gasoline prices and the acceleration in food and other prices this year."
"The higher prices and inflation are due to the pandemic, especially the Delta-wave," Zandi said. "With the Delta-wave winding down, supply chain and labor market problems will be addressed, and inflation will moderate."
For Latest Updates Follow us on Google News
**If you have any Query Related This Post then here is the Source Link**