Thank you for joining me for this friendly as we look ahead to the Euros, which starts in 20 days time!
The match was a thriller with goals from Daly, Kelly and an own goal from Evrard.
If you missed out on any of the action, catch up with Suzy Wrack's report from Molineux here:
Here's a look at Chloe Kelly's goal, her first for England and what a moment it must have been after her ACL injury.
England manager Sarina Wiegman told ITV: "I think we dominated the game. We created a lot of chances but didn't score in the first half. We said at half-time we need more depth.
"I am very happy for Kelly, it doesn't matter who scores the goal but after what she has been through it's very nice.
"Many players have played tonight, it shows how the depth in the team is. We still have other players. What we wanted to do, we wanted to win, but we wanted to try some things."
And on the Netherlands match: "It's going to be a special game. It's a preparation game, we won't approach it differently. It's special because it's the country I come from."
Ellen White didn't find a goal today, she missed a sitter as her feet got under her.
She is three off of equalling Wayne Rooney's England goal record and four away from breaking it!
Do you think she will break it this summer? Let me know.
Chloe Kelly, who scored her first England goal tonight, told ITV: "It was brilliant to be back out there. I'm enjoying my football, to get a goal was brilliant.
"From the minute I got injured I said I wanted to be at the Euros… I realised how much work I put into my rehab."
On Netherlands challenge: "It's going to be a great challenge. Each challenge will get us ready for the 6 July"
You have to feel for Evrard, who did have a good game and repelled a lot of England chances.
She hit in an own goal from a stellar hit from captain Williamson.
Belgium played well but they just needed more possession to make a mark.
Full-time: England 3-0 Belgium
Sarina Wiegman's unbeaten record in charge of England continues as her Lionesses won a dominant game against Belgium.
Second half goals from Chloe Kelly and Rachel Daly, with an own goal from Nicky Evrard, seeing the friendly end in the hosts' favour.
Subs the difference in the end after a valiant defensive effort from the visitors in the first half.
90 + 2 min: Williamson may be miffed when she looks at the scoresheet as I believe her goal is being ruled an own goal for keeper Evrard.
Williamson's shot hit the crossbar and Evrard's hands, in an attempt to save, hit it in.
England will see out this match with a corner.
90 min: Kelly, Daly and Greenwood have been great additions to this England side. IT will be interesting to see if they get starts against the Netherlands, the Lionesses next opponent.
There are three added minutes here just as Earps need to make a save with Vanmechelen hitting a soft chance.
87 min: Dhont again got the ball forward but England managed to cut the ball out. Daly was down for a few moments but she is back to her feet.
Greenwood's long range passes got England going once again but Parris lost the ball.
84 min: Belgium aren't just lying down here as Dhont is fed by Wullaert but the forward is ruled offside.
Dhont has been key since coming on for her side, making a great claim to make the squad for the Euros.
GOAL! England 3-0 Belgium (Evrard [OG], 82′)
England won a corner as Kelly attempted to find Kirby in the box.
Greenwood took the kick and Williamson hits it home after the ball, with a rebound from the keeper, comes back out after Parris' header.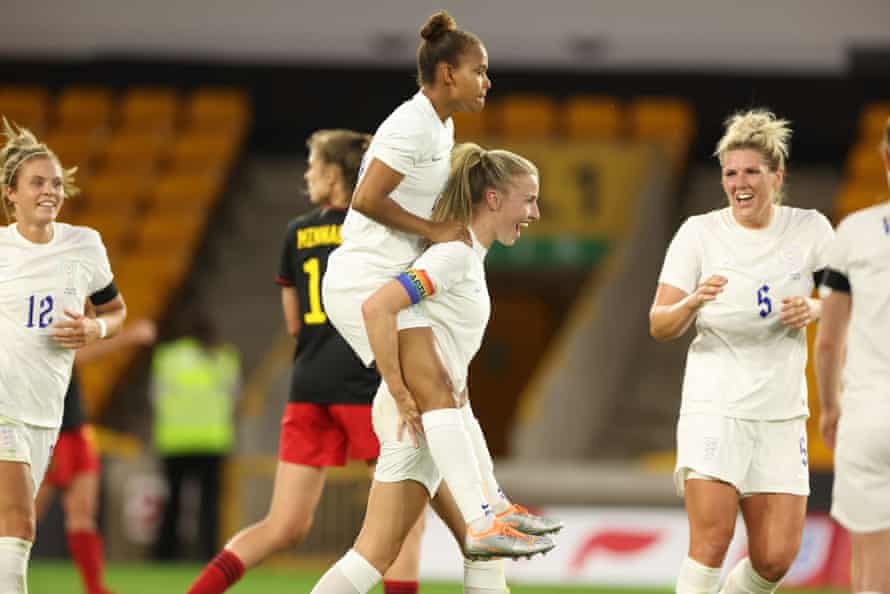 81 min: Hemp again gets the ball in the box but England's header is straight to Evrard. The keeper has had a good game despite the two goals.
England have made another change with Parris on for Hemp. This is key for Parris, who in Ian Wright's opinion is lucky to be in the squad.
78 min: Dhont had a chance but a miscommunication sees it go out for a goal kick.
England countered with Daly sending a cracking cross to Bronze, who is unable to keep it in play.
76 min: The game slowed slightly as England retained the ball but they came to life with Williamson just inches away from scoring.
Up the other end Wullaert is fed the ball but her shot sailed over. She rushed her attempt, not knowing she had a bit of time to take that.
73 min: Tysiak cuts out a ball from Williamson, who looked to pick up a slight injury but she remains on the pitch.
Hemp weaved around three or four defenders after Greenwood feeds her. She found England in the box but her header sails over the bar. A good opportunity for the Chelsea star.
Belgium have made two more changes with Vanmechelen and Vangheluwe on.
70 min: I may start a Lauren Hemp fan club, she has consistently beat the first defender in this match and has been a key part of England's go forward.
The hosts were again in possession with Belgium defending for their lives.
68 min: Belgium were unlucky to concede that with Kelly's cross coming in quite low. It looked as though they had quelled the threat but Daly thought otherwise and smashed it home.
Biesmans almost lost the ball in her own box as Belgium's resolve started to falter. They need to get one back soon.
GOAL! England 2-0 Belgium (Daly, 66′)
What a goal!
The ball bundles around from an England corner, it comes out to Daly who hits it into the top left corner.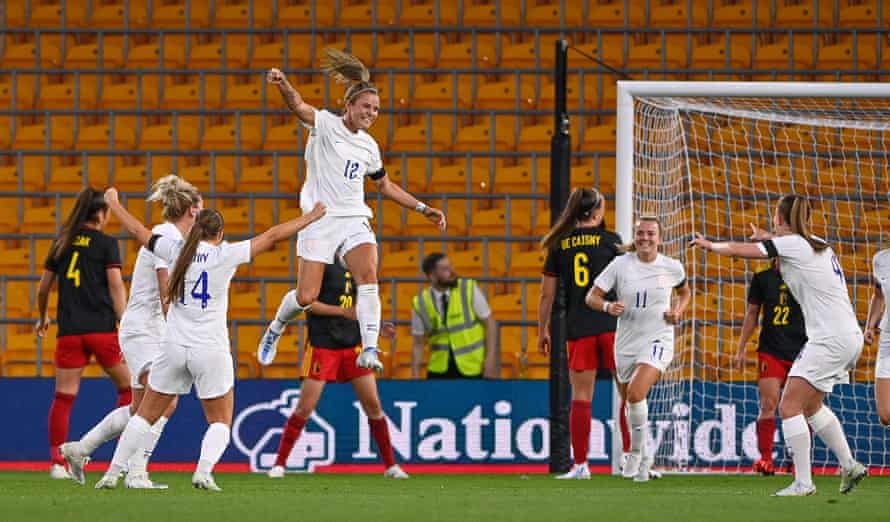 64 min: It was a well worked goal by England, running through the phases. Kelly had a chance to shoot and took it, Tysiak tried to cut it out but deflected it in.
I think, for now, it is being awarded to Kelly but I shall update you if anything changes.
GOAL! England 1-0 Belgium (Kelly, 61)
That was deflected in, waiting on confirmation on if that was an own goal!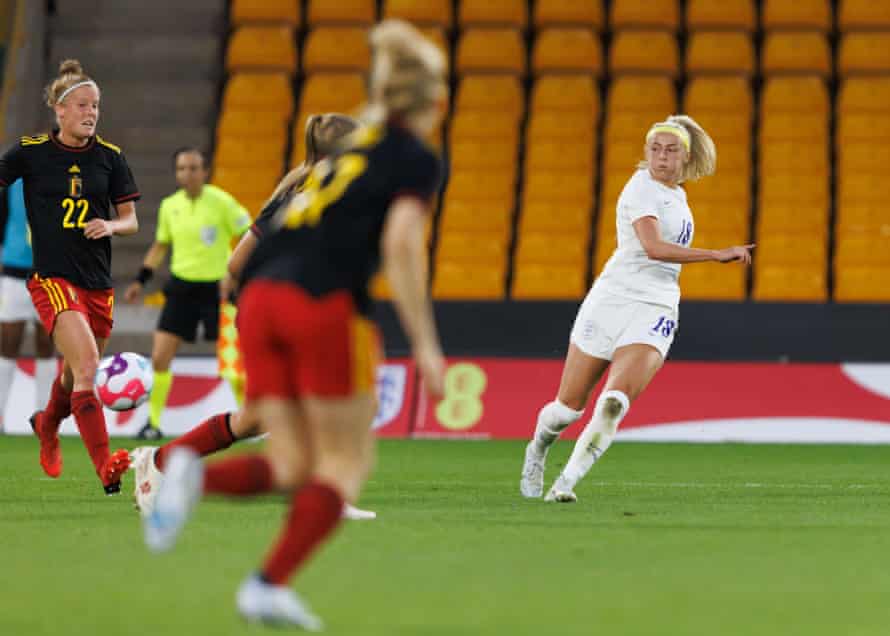 61 min: Hemp should have taken the shot herself but she passed to Stanway whose shot was blocked.
Evrard gets it away, under huge pressure, and then Kelly gives away a free kick. It's run back to the keeper as the visitors look to strike.
Tison crossed but the pass after sailed out of play.
England bring on Kirby and England for White and Stanway with Belgium calling upon Dhont and Missipo for Delacauw and Philtjens.
58 min: Stanway got another chance but it goes slightly wide, the action is all England at the moment but Belgium need a shout out for maintaining their defence thus far.
Hemp was fouled in the box but the ref isn't having it! Boos ring around the stadium.
Belgium had some attack but whenever they come forward they gift the ball away. Some tired legs out there.
56 min: Hemp gets a good cross in and tried to find White but replacement Tysiak cut out the shot.
Stanway managed to win the ball back in a great position as the hosts looked to build once more. Kelly got the ball in but it evaded teammates. The ball did come back out to Walsh with a long range shot sent straight to Evrard.
It feels a goal is coming, it's just a matter of time.
54 min: Kelly slipped as she was in a good position on the box but England work it back to halfway.
A loose pass saw Belgium win back the ball to have one of their most promising spells of possession. It ended with a well controlled block through Bronze.
The defender got a ball away to Kelly, whose cross only finds Evrard. The last touch needs work from England.
51 min: Stanway had the opportunity to shoot but she took too long and passed to Kelly, the chance is squandered but the hosts still had possession.
Greenwood is making a good impact with expert crosses coming in already.
49 min: The crowd have started to come to life with 'Football is coming home' ringing around Molineux.
Bronze gets a yellow card for a foul on Minnaert, she hit her opposite in the face. There's a break in play as we wait for her to be okay to continue.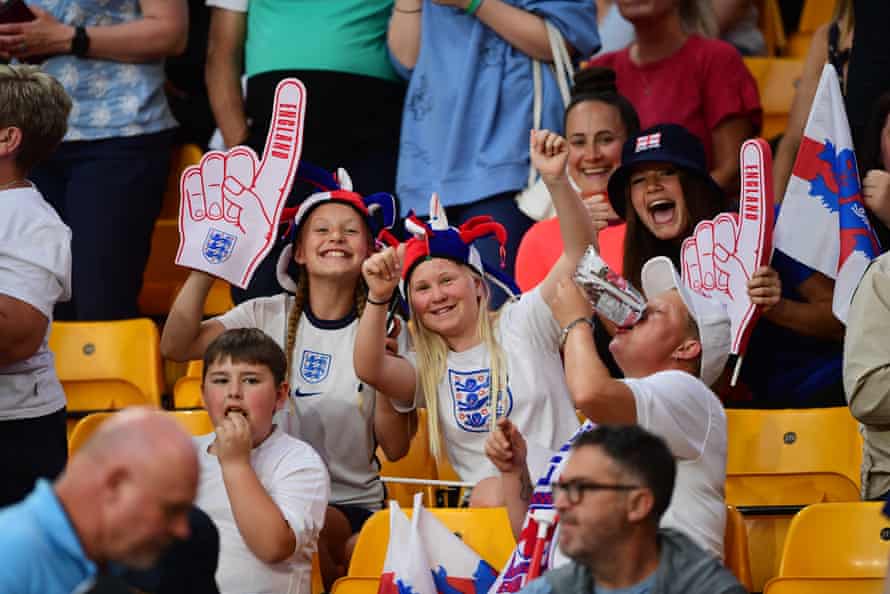 47 min: The half started very much as the first did with building play. Bronze's cross was blocked well.
It will be interesting to see what impact these changes make, especially Kelly who has had an amazing return from her ACL injury.
Back underway! England 0-0 Belgium
Well who will break the deadlock?
England and Belgium have both made changes.
Chloe Kelly, Rachel Daly and Alex Greenwood are on for England with Tysiak and Tison for Belgium.
Ahead of the second half getting underway, don't be shy and get in touch!
You can reach me on Twitter or on email, chat to me about anything and everything.
Have you subscribed and been reading our women's football newsletter Moving the Goalposts?
If you've answered no to that well I have a treat for you! The Guardian have weekly newsletters bringing fans news from around the world.
The latest sees a chat with former Manchester United and now San Diego Wave manager Casey Stoney.
Check it out and subscribe for every newsletter to drop in your mailbox here: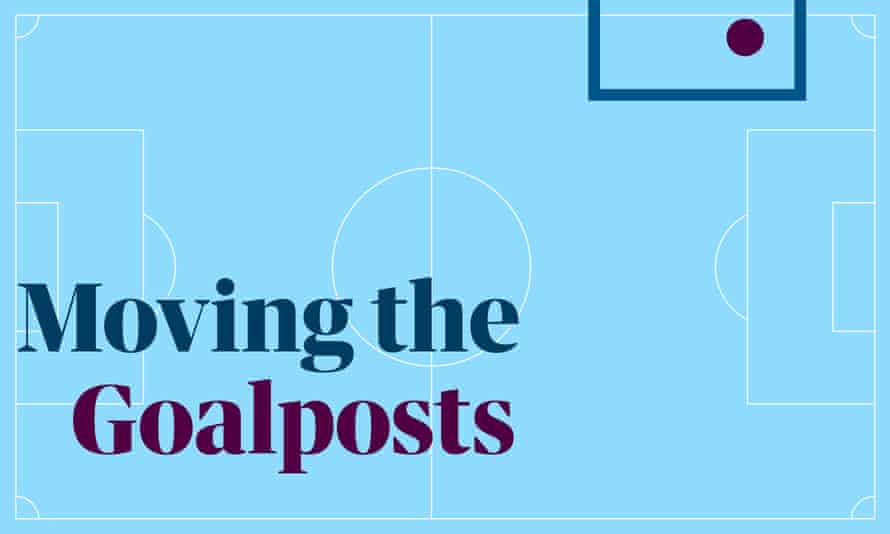 Half-time: England 0-0 Belgium
There hasn't been a goal but we have had everything else!
Shots from White and Williamson in particular were close but Belgium's keeper Evrard and Kees have done enough to keep the score level.
There was also a non-penalty call which was controversial with England felt hard done by.
All to play for the second 45.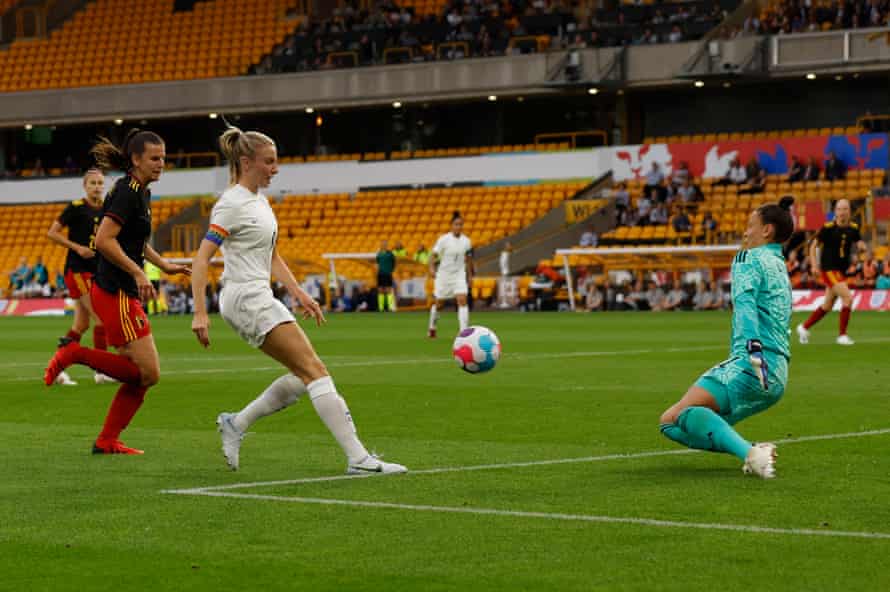 45 + 2 min: Walsh's touch is a beauty as she found Mead, who is in two minds but earned a corner.
Mead took the kick, going to the back post but it goes to nothing.
45 min: Wijnants got a shot away after good build-up play for Belgium, they are definitely growing into this game.
There are two added minutes.
43 min: Belgium remain strong in defence but they need to kick it up in attack when they do get the ball.
They have presented some challenges to England but they just need a neater least touch to break the deadlock.
Will we head into half-time 0-0?
Denial of responsibility!
-
If you are a regular visitor then ignore this...
Read Full Details
"If you have any Query Related This Post then here is the Source Link"