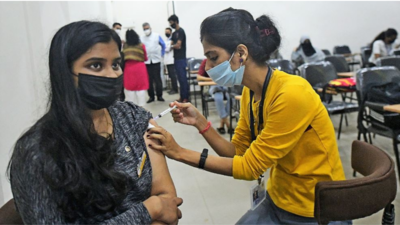 NEW DELHI: Nearly 16 crore unutilised doses of Covid vaccines were available with states and UTs till Saturday morning as vaccinations dropped significantly in the Diwali week (October 30-November 5) after showing improvement during two previous weeks, official data shows.
Perhaps due to a festival lull, only 2.42 crore doses were administered during the week ending November 5, nearly half of the more than 4 crore doses given in the previous week (October 23-29).
"This was a Diwali week with many people travelling. So, the drop is not surprising. Also, a large number of people has been given the first dose. The coverage will grow as per schedule," an official said.
Overall, total inoculation crossed 108 crore doses on Saturday with over 78% of the eligible adult population covered with at least one dose of the vaccines. More than 36% people above 18 years have been covered with the second dose of vaccine.
While many people are overdue for their second dose, the government has asked states to streamline the process and identify individuals who are still unvaccinated or have not taken their second dose. The Centre is also running a special campaign 'Har Ghar Dastak' with an objective to reach out to such individuals and address issues that may be holding them back. It has also asked states to reach the elderly and those with mobility issues at their homes.
Earlier this week, PM Narendra Modi urged all healthcare workers and magistrates of districts with low coverage to "knock on every door" to ensure double dose vaccination as per schedule. He exhorted district magistrates to go down to the villages, localities and even households and find out people who are still unvaccinated or are overdue for second dose.
For the first dose, the Centre has asked states to aim covering all eligible population by end of November.
FacebookTwitterLinkedinEMail
**If you have any Query Related This Post then here is the Source Link**