NEW DELHI: Contrary to the perception that Neet-UG favours students from the CBSE, an analysis of this year's results reveals that 13 boards have more than 50% of their candidates in the list of those who qualified in the test while nine boards have over 10% of their students among the top one lakh qualified candidates.
Of the total 8.7 lakh candidates who have qualified in the test, 66.5% are from boards other than the CBSE, which accounts for just 39% of the top two lakh. The Rajasthan board leads in the respective share of the top one lakh qualified candidates with 19.8%, followed by Odisha (14.9%), CBSE (14.5%).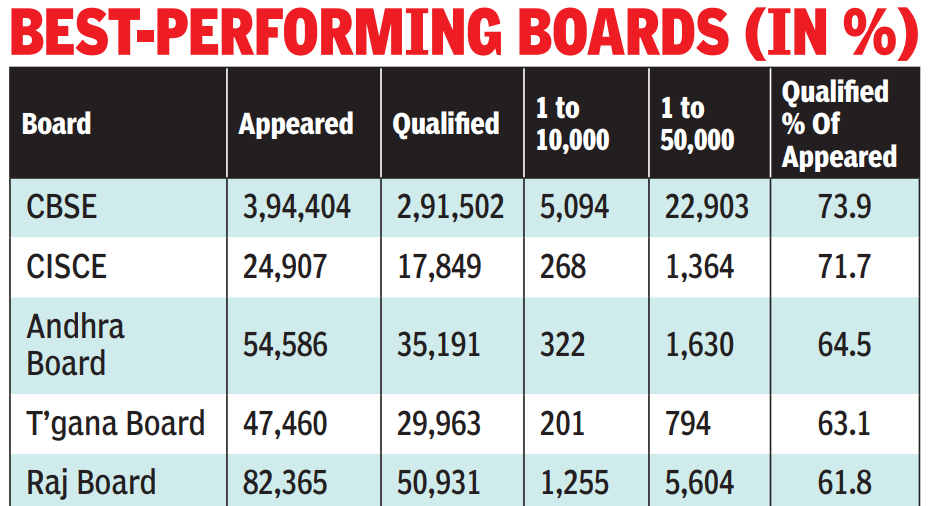 Congratulations!
You have successfully cast your vote
State-wise Rajasthan and Uttar Pradesh have the highest number of candidates in the 1-10,000 rankings. Seven states have 6,000 and more candidates in the rank cohort of 1-1,00,000, which include Rajasthan, Tamil Nadu, UP and West Bengal. Tamil Nadu, which along with 18 other states saw a decrease in qualification percentage, however, recorded an all-time highest number of candidates in the top one lakh.
In all, nine states recorded 60% and above qualification with Delhi registering the highest at 76.6%, followed by Chandigarh (75%). States with over one lakh candidates and over 50% qualification include Karnataka (57.6%), Kerala (58.9%), Rajasthan (66.2%), Tamil Nadu (54.4%) and UP (53.8%). Maharashtra was the exception with 45.9% qualification.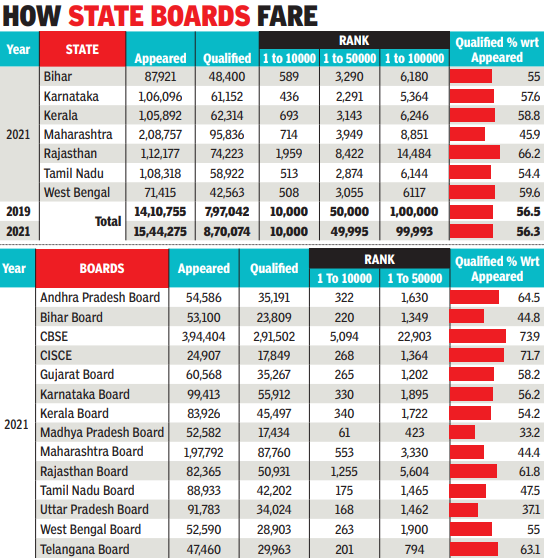 The 13 boards with over 50% qualification are Telangana (63.1%), AMU (84.6%), West Bengal (55%), Rajasthan (61.8%), Mizoram (50.5%), Kerala (54.2%), Jammu & Kashmir (56.5%), Haryana (54.8%), Gujarat (58.2%), Goa (52.7%), CISCE (71.7%), CBSE (73.9%) and Andhra Pradesh (64.5%).
Boards which showed significant improvement in Neet-UG performance this year include Goa, Gujarat and Maharashtra as well as the North-East region except Manipur. Candidates from boards of states like Karnataka, Bihar, Uttar Pradesh and Madhya Pradesh slipped.
The nine boards accounting for over 10% each of the top one lakh qualified candidates are AMU (28.1%), Rajasthan (19.2%), Odisha (14.9%), CBSE (14.5%), CISCE (14.3%), West Bengal (13.7%), Bihar (10.9%), Andhra Pradesh (10.7%) and Haryana (10.6%).
There are 13 boards whose candidates improved their qualification percentage from 2019, including Jharkhand (3.9%), Maharashtra (6.7%), Tamil Nadu (4.6%), Tripura (7.5%) and West Bengal (1.6%). Boards which have improved their qualification by over five percentage points are Assam, Goa, Jammu & Kashmir and Tripura. The four boards which have improved their qualifying percentages by over 12 percentage points are Gujarat, Meghalaya, Mizoram, and Nagaland.
This year also recorded the highest number (8) of qualification by transgender candidates, particularly from Maharashtra and Tamil Nadu.
The boards which have seen the biggest decrease in qualification percentage as against 2019 are Andhra Pradesh (6.2%), Bihar (6.5%), Kerala (7.1%) and Manipur (12.5%).
In all, 18 boards registered a decline in qualification percentage as compared with 2019 and these include the three national boards — CBSE, NIOS and CISCE.
According to a senior NTA official, "Since 2020, subject experts from states and different education boards which conduct senior secondary exams, including translation experts in 13 languages, are consulted. The state curriculum is also being continuously studied."

Denial of responsibility!
-
If you are a regular visitor then ignore this...
Read Full Details
**If you have any Query Related This Post then here is the Source Link**