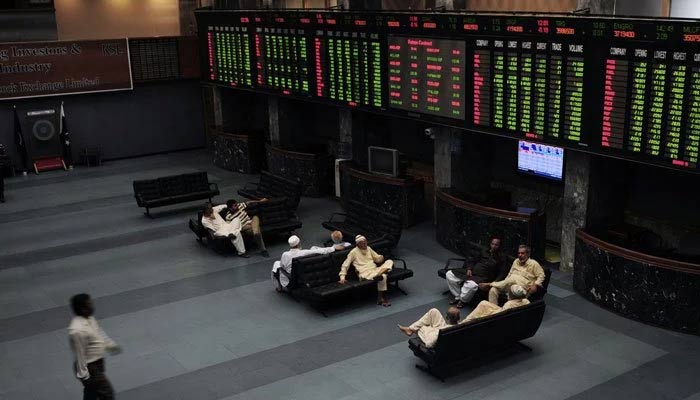 Benchmark index rises by 1,111 points during the week to settle at 47,295.8 points.
The index maintained a healthy momentum on the back of strengthening currency, clarity regarding the IMF programme.
"We expect the market to remain positive in the upcoming week," a report from AHL states.
---
KARACHI: The Pakistan Stock Exchange (PSX) witnessed a volatile trading week, however, the benchmark KSE-100 index powered past the 47,000-point mark in the outgoing week to finish with a gain of 1,111 points or 2.4%.
Interest in cyclical and sideboard sectors kept the market buoyant as investor participation remained strong. The index maintained a healthy momentum on the back of strengthening currency and clarity regarding the International Monetary Fund (IMF) programme.
Additionally, sector-specific developments also spurred buying interest in select stocks, which further fuelled the rally. The market finished four out of the five sessions in the green to settle at 47,295.80 points.
On Monday, the index climbed over 900 points as investors' interest was rejuvenated after Adviser to Prime Minister on Finance and Revenue Shaukat Tarin confirmed that an agreement with the IMF over the revival of the $6 billion Extended Fund Facility (EFF) had been reached and a formal accord will be signed later this week.
The uptrend continued on Tuesday as investors cheered consistent appreciation of the rupee against the US dollar and significant growth in exports.
However, the trend reversed on Wednesday and the market succumbed to selling pressure in line with world equity markets. Moreover, concerns regarding monetary policy tightening in the upcoming Monetary Policy Committee (MPC) meeting — scheduled to be held on November 26 — forced the investors to trade cautiously.
Fortunately, the tables turned on Thursday and the market closed the session in the green as fertiliser, banks and automobile sectors attracted cherry-picking from investors.
The market managed to sustain the positive momentum and despite choppy trading, closed the week with modest gains on Friday.
The announcement of strong financial results in banking, oil and fertiliser sectors coupled with expectations of a likely approval of the IMF tranche kept the investment climate positive.
Other major developments during the week were: foreign exchange reserves reached $23.925 billion, Ufone signed Rs21 billion syndicated financing for 4G services, urea sales surged by 10%, the Oil and Gas Regulatory Authority slashed local gas-producing firms' sale price, and textile exports hit a life-high of $6.04 billion in July-October.
Foreign selling continued this week, clocking at $11.2 million against a net sell of $2.7 million recorded last week. Selling was witnessed in commercial banks ($5.6 million) and fertilisers ($1.4 million).
On the domestic front, major buying was reported by other individuals ($14.5 million) and insurance companies ($6.5 million).
During the week under review, average volumes clocked in at 430 million shares (up by 2.4% week-on-week), meanwhile average value traded settled at $89 million (up by 121% week-on-week).
Major gainers and losers of the week
Sector-wise positive contributions came from technology (+490 points), fertiliser (+136 points), refinery (+115 points), oil marketing companies (+36 points), and textile composite (+33 points), whereas negative contributions came from textile weaving (-14 points), and paper and board (-9 points).
Scrip-wise major gainers were Systems Limited (+241 points), TRG Pakistan (+210 points), Meezan Bank (+72 points), National Refinery (+48 points) and Fauji Fertiliser (+41 points). On the flip side, major losers were UBL (-38 points), Lucky Cement (-35 points) and HBL (-33 points).
Outlook for next week
A report from Arif Habib Limited predicted: "We expect the market to remain positive in the upcoming week."
"With IMF and Pakistan expected to reach an agreement soon, the investor sentiment is anticipated to be upbeat," it said, adding, however, that current macro-economic concerns such as higher inflationary reading due to jump in petroleum prices could keep the market range-bound.
"The KSE-100 is currently trading at a PER of 5.0x (2021) compared to Asia-Pacific regional average of 14.6x while offering a dividend yield of 8.4% versus 2.2% offered by the region," the brokerage house stated.
**If you have any Query Related This Post then here is the Source Link**