Climate Change and Energy Minister Chris Bowen has fired back at calls to keep coal generators in Australia's energy system because renewable power doesn't always flow.
Bowen reiterated the long-term solution to energy pressures was a shift to cleaner energy.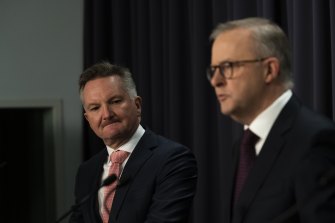 "You can say the wind doesn't always blow and the sun doesn't always shine. Well, the rain doesn't always fall either but we managed to store the water," Bowen said.
"We can store the renewable energy if we have the investment, and that is an investment that has been lacking for the last decade, that's the problem."
Prime Minister Anthony Albanese's press conference has been dominated by the nation's power crisis and the Australian Energy Market Operator's unprecedented move to suspend the east-coast electricity market until further notice.
Asked whether Australians could be certain the challenges would be addressed and no blackouts would take place, Albanese said the government was working with the operators to address the woes but "you can't fix a decade of inaction in 10 days".
"You had politics and scare campaigns put ahead of good policy, and now we are having to deal with the consequences of that," he told reporters.
Albanese said investment had gone into producing clean energy in Australia but an antiquated transmission system meant it wasn't being fed into the grid.
"Meanwhile, the ageing coal-fired power stations have been more susceptible to outages and disruptions because they are old," he said.
Bowen said the move by the AEMO was aimed at fixing a national energy market that wasn't working as it was intended and would not continue for a day more than needed.
He said ongoing energy shortages were driven by scheduled and unscheduled outages at aging coal-fired power stations which were being repaired by generators and remained confident blackouts and load shedding could be avoided.
"What we'll do is keep doing what we are doing," he said.
"State and territory ministers convened some short-term responses, some medium and longer-term responses, including giving AEMO the power to store gas and release it when necessary.
"That sort of action will continue."
Denial of responsibility!
-
If you are a regular visitor then ignore this...
Read Full Details
"If you have any Query Related This Post then here is the Source Link"